Is Xcheaters Website The New Hookup Hotspot?
Now, you can find your dream hookup partner from the comfort of your home, using fun features or just by messaging people you find attractive. Technology really has come so far.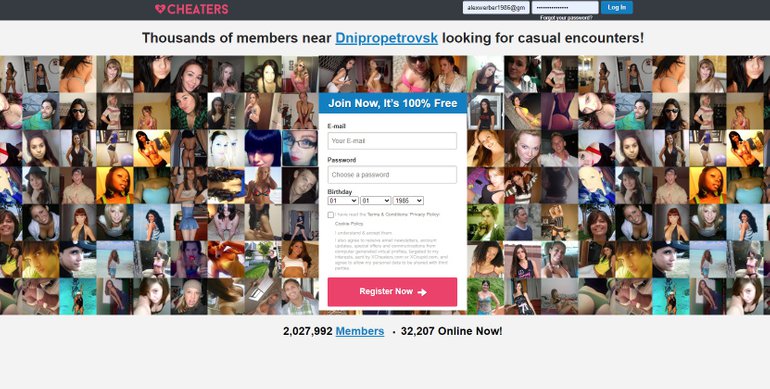 What`s the main page on Xcheaters like?
The Xcheaters main page is simple. It shows you user updates at the center, your messages, visitors, and likes on the left side of the page. The right section of the page has Quick Match, as well as a section for online and new members. The top section of the website has tabs, so that you can use the search filters, live cams, and the Discover feature.
Pros:
You see the people who visit your profile.
Photos with nudity are censored by default.
There are fun features like Quick match.
Cons:
Ads on the website unless you`re premium
No messaging unless you have a premium account
Can you use Xcheaters for free?
On Xcheaters, you can create an account for free. Following that, you can create a profile with a picture and bio, use Quick Match and Discover and see your visitors and likes. However, you won`t be able to do anything more. You can read incoming messages, but you cannot reply to users or interact with people in any other way without paying for a premium membership.
What features does the Xcheaters website have?
Xcheaters is popular, but you want to know what draws people in and makes them stay. After all, there are tons of casual sex sites that help people hook up, but they lack the pizazz to make people come back for more. Xcheaters has that mojo, so let`s take a look at their special features:
Quick match
Quick match is a way to get matches quickly, based purely on profile pictures. You`re shown a photo on the top right of the webpage, and you have to like or dislike it. If a person you like likes you back, you`ll be matched, and you can talk to each other.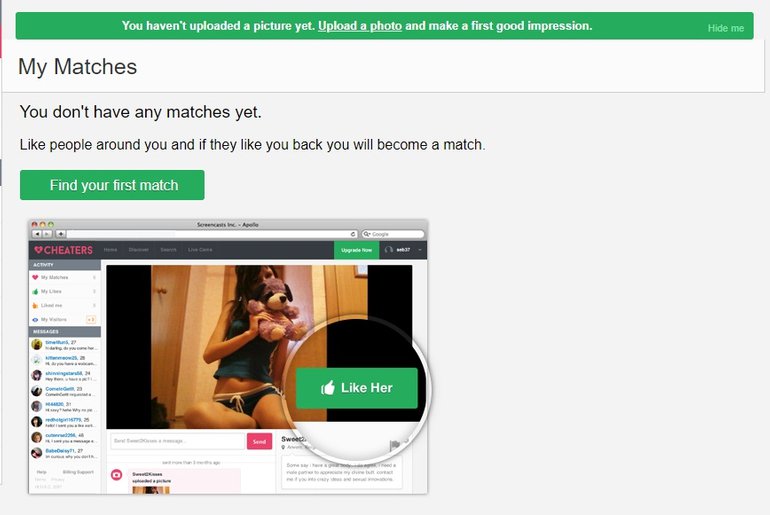 Statuses
On your home page, you`ll see users post updates or funny anecdotes, or sometimes post naughty statements. You`ll even see when some users post a new picture. You have the option to reply to these statuses, as well as create your own status. However, you`re only able to reply to one status for free. After that, you need a paid account. You cannot create statuses with a free account at all.
Search filters
Xcheaters offers a search filter which makes finding a hookup partner much easier. You can filter users by age and location. You can also have the search only show users who are online or have pictures on their account.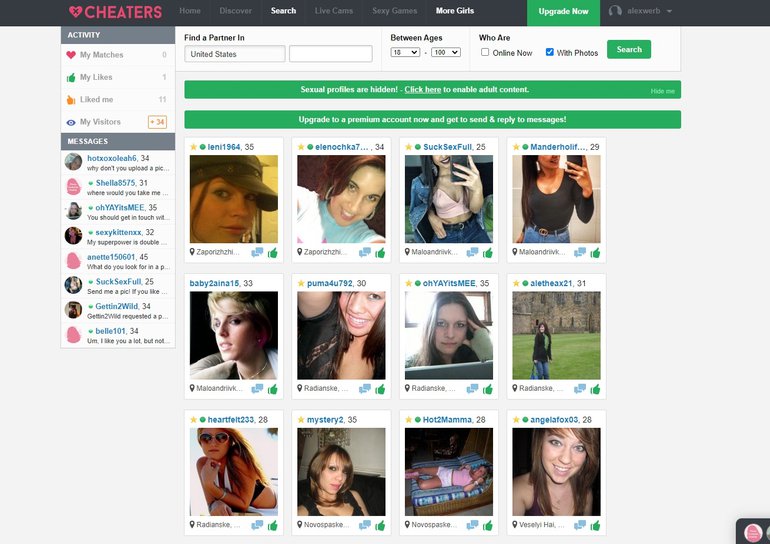 Discover
This is a more in-depth version of Quick match. You can open Discover by clicking on the tab at the top of the webpage. It`ll show you a user`s profile picture, along with their name, age, location, and bio. This way, you have more to judge your like/dislike on than just plain looks.
My visitors
The "My Visitors" tab shows you all the users who were curious enough to check out your profile. This allows you to make contact with them if they only took a glance at your profile and left. That way, maybe your words can be enticing enough to lure them back.
Prices
1 month membership at $25.99
3 month membership at $59.95
6 month membership at $99.95
Xcheaters only accepts payment through credit/debit cards partnered with VISA or Mastercard and Paysafecard as well.
Is Xcheaters a legit site?
Folks have wondered about an Xcheaters.com scam, but those allegations are simply not true. The website is hosted using SSL security, so no one will be able to steal your information. Moreover, all your payment methods are hosted through a separate secure section. It even discreetly bills you as XCBill.net, a merchant located in Cyprus, so no one knows you`re using Xcheaters.
What`s the verdict?
This Xcheaters review has come to the verdict that Xcheaters is a standup site to find hookups on. The website hosts a plethora of features that not only make it fun to use but also make finding hookups easy as pie. Users are able to experience the site for free to a degree, so they can decide whether it`s worth using. It`s a friendly experience, and the platform is secure so there are no worries of privacy breaches. All in all, Xcheaters is a great hookup hotspot, and you`d be doing yourself a disservice by skipping it. Go on and give it a try!